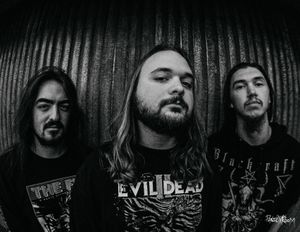 Bio
Hailing from the metal-rich region of Northern California, Volrahven is an explosive three-piece thrash and death metal band that has been captivating audiences since their formation in 2019. Drawing inspiration from influential bands like Death, Gojira, Sepultura, and Pantera, Volrahven has crafted a unique sonic identity that merges the ferocity of thrash metal with the bone-crushing brutality of death metal.
At the forefront of their assault is David, the band's frontman and guitarist. David commands the stage with his intense stage presence and showcases his versatility through a wide range of vocals, from guttural growls to piercing screams. His skillful guitar work provides the band's foundation, delivering razor-sharp riffs and blistering solos that cut through the air with precision.
Mason, the band's thunderous bassist, solidifies the rhythm section with his rumbling low end. His mastery of the instrument adds depth and heaviness to Volrahven's sound, acting as a driving force behind their sonic assault. With a strong sense of groove and an unwavering dedication to their craft, Mason ensures that the band's compositions hit with full impact.
Completing the lineup is Israel, the band's skilled drummer. Israel's precision and power behind the drum kit provide the backbone for Volrahven's relentless momentum. His dynamic playing style adds depth and intricacy to the band's sound, whether delivering rapid-fire blast beats, intricate fills, or executing seamless tempo changes. Israel's contributions to the band's compositions are essential, enhancing the intensity and complexity of their music.
Together, David, Mason, and Israel form a formidable trio that has quickly gained recognition within the metal community. Their unwavering dedication, undeniable chemistry, and exceptional musicianship have earned them a devoted fanbase and established them as rising stars in the thriving Northern California metal scene. With their relentless energy and commitment to pushing the boundaries of thrash and death metal, Volrahven is poised to leave a lasting impact on the genre.